How to get in touch with us:
The Co-Founders and mother-daughter team: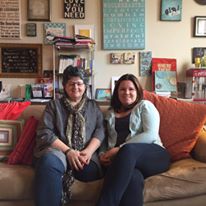 Alice and Danielle Trumbull
Alice Trumbull, Co-founder, Director
Email: alice@momentshouse.org
Kelly Akroman, Director of Programs and Services
Email: kelly@momentshouse.org
Cell: 413-344-5535
Visit us: 2 South St, Ste 120, Pittsfield, MA
Parking:
Metered parking available on South St. heading South.
Free 90 minute parking on South St. heading North and in the next block heading South
Always free parking for cars with a handicap placard in all areas despite signage.
Convenient Drop-off in loading zone right in front of our door.
Free parking in Berkshire Plaza Hotel garage. Take walkway and take elevators (to left of stairs) to our street level entrance.
Call us: (413) 443-6800
Email us: info@momentshouse.org
Like us: facebook.com/momentshouse
Follow us: https://twitter.com/MomentsHouse
Hash Tag us in your pics on Instagram: #momentshouse, #neighborshelpingneighbors, #sonoonefacescanceralone, #loveliveshere #strongertogether
Drop in hours: (Closed Fridays)
Monday 10am – 3pm
Tuesday 11am – 5pm
Wednesday 11am – 5pm
Thursday 9am – 5pm